TikTok is taking the world by storm and Gen-Zs are enamoured. It remains the most downloaded app in the Apple iOS store with 33 million installs in Q1 2019. It now has 500 million active users, with Tik Tok's new advertising and hyperlinking capabilities the app now presents some exciting new opportunity for brands. People are no longer questioning whether or not TikTok is worth investing time into, they know its time to get educated and involved. 
Here's a rundown of everything brands need to know about TikTok, how do you get the most out of Tik Tok?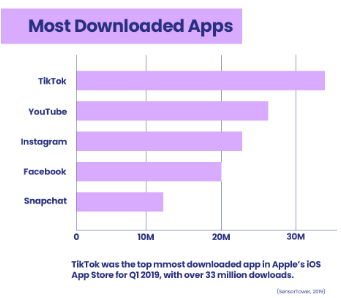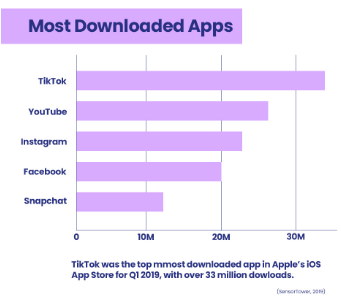 If TikTok seems familiar to you that might be because it is similar to the now-extinct apps Vine and Musical.ly. TikTok actually began as Musical.ly back in 2017 and rebranded and developed to become TikTok. The app allows users to create their own short videos and explore different hashtags, featured creators, and viral songs.
The content is rooted in the viral meme culture that Gen-Zs live and breathe, users can participate in challenges created by TikTok, brands or other users and the number of people who get involved in popular hashtag challenges can be in the millions. 
The 'Old Town Road' TikTok challenge featured users transforming into cowgirls and boys set the Lil Naz X Single 'Old Town Road'. The song became the longest-running number-one song in the US charts and the songs initial success was partly due to its popularity on the app.
This is a great example of how much influence the app currently has on young people and pop culture.
The Beijing based company that owns the app is named ByteDance and they own a number of other news, photo and video sharing platforms.
66% of users are below 30 years old meaning TikTok should be top of mind for brands looking to target younger audiences. 43% of the app's users are in India which is why a lot of their current case studies have been in that market but the brand is spreading globally at pace, where brands will be able to take advantage of it internationally. Interestingly 80% of the users are on Android devices, this is important for advertisers to keep in mind when formatting their ads on the platform.
Users typically spend about 52 minutes a day on the app which is similar to Instagram (53 minutes) and Facebook (38 minutes). The time spent on the app shows that users are just as engaged with the content as they are on other more established platforms.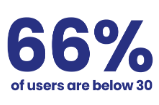 Right now TikTok offers three main advertising options in-feed, splash page, and branded hashtag challenges. In-feed ads appear like a normal user-generated post in the feed, splash pages appear as a full-page ad when the user opens the app and hashtag challenges show up on the 'Discover' tab. CTA buttons that link to shoppable pages are available on in-feed and splash page ads. According to AdWeek, brand takeover ads cost between $50,000 USD and $100,00, while hashtag challenges are sold for a flat fee of $150,000 for six days with promotion.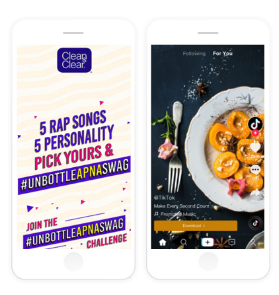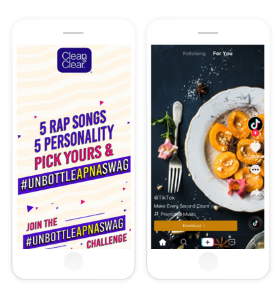 ByteDance/TikTok has a self-service ad management platform but it is only available in India right now. Users there can advertise using budgets from $20USD and have the option to advertise across all of their channels like Facebook does with Instagram. Other capabilities include targeting options like lookalike audiences and conversion tracking with pixels. They are planning to make this available to other parts of the world soon. 
Influencer Marketing and TikTok
Brands have a fourth option if they are wanting to promote themselves on TikTok and that is utilising influencer marketing. Similar techniques that are used on other video platforms like YouTube, Instagram Stories and IGTV can be used on TikTok. Authenticity is key when trying to connect with younger audience demographics, TikTok influencers and creators create raw and relatable content that they know their followers will respond to. As younger audiences are less likely to respond to overproduced videos with more obvious forms of advertising. It is important to keep this in mind as a brand looking into using influencer marketing on TikTok. We have already started adding TikTok influencers to our database so if you want to give it a try for your brand then we can help you out!
A pitch deck leaked by Digiday the platform mentioned it will be introducing Snapchat style filters for brands to use, which will provide exciting, immersive ways of engaging with audiences. Other options they may look at introducing for advertisers is shoppable posts or native checkouts like on Instagram, making it easier for users to make purchases. This would make TikTok even more appealing to brand advertisers as the current options are still fairly rudimentary. 
Well, known skincare brand Clean & Clear wanted to increase their brand and product awareness among female teens across India and invite them to engage with the brand while introducing them to their new facewash.
They achieved more than 1.96 billion video views, 172 million likes/comments/shares and 2.62 million user-generated videos from the Hashtag Challenge, along with Clean & Clear's official account following increasing by more than 10.4K, this was one of the most successful Branded Hashtag Challenges in India to date.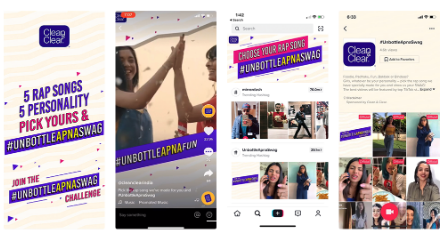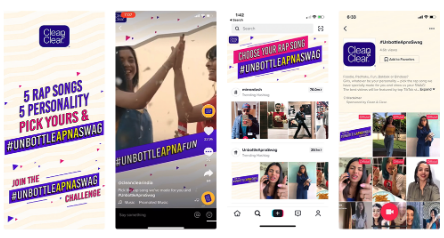 US clothing brand Hollister ran a TikTok ad campaign on their own which included in-feed video ads with a "shop now" button. The button pushed users to a microsite where they could browse and shop while still on the TikTok app. They have not released the results of the campaign but have said they were "pleased" with what they saw.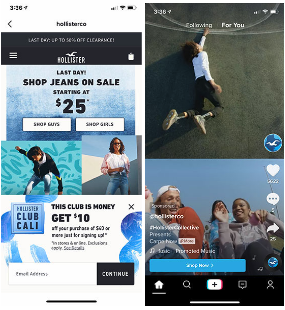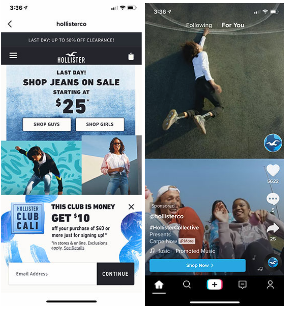 With these valuable insights into TikTok, its audience and advertising options you should have what you need to start thinking about how you could incorporate Tik Tok into your own marketing strategy. The easiest way to do it here in New Zealand would be to work with TikTok influencers and we're the people who can help you with that. If you have any questions or want to chat about a potential campaign, don't hesitate to get in touch with us at hello@thesocialclub.co.