Apparently, bigger isn't always better, with the recent word through the social grapevine being:
The smaller the social influencer's audience, the stronger the engagement.
To put things into perspective, a social influencers following can range from 1k to 100's of millions (so pretty damn broad). Micro-influencers generally covers the 1-10k mark, and macro-influencers and celebrities tackle the rest. So micro-influencers have, for a lack of a better word, a very micro following. But those micro numbers are getting macro results for businesses, and we've put together a list of five reasons why micro-influencers can be the key to influencer marketing success.
1. COST
The main reason brands & agencies are increasingly willing to shift down the popularity ladder to influencers with smaller audiences, is because micro-influencers are highly cost-effective.
How? Well, it's like hitting 20 birds with one stone. Your influencer budget could get you one celebrity influencer, or 20 micro-influencers. Not only are micro-influencers significantly cheaper than macro-influencers, but they reach a niche (generally local) audience, that is far more engaged which generally leads to a higher conversion rate and return on investment. Where possible, a combination of both micro and macro influencers works best. When it comes to price, the market is always changing, but in New Zealand you can look to spend about $100-$500 for a post by a micro-influencer, depending on factors like follower count, engagement, industry and more.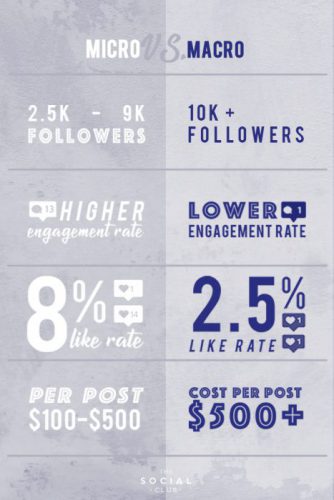 2. HIGHER AUDIENCE ENGAGEMENT
Smaller audiences are not only more loyal but far more engaged (liking, commenting and sharing). To put it simply, the smaller the following, the closer their followers are to being actual friends. Which means, they generate high engagement. Once an influencer builds a larger following, their followers are further removed, resulting in less engagement.
In a strange way, it's kinda like being at a Ricky Martin concert (or any concert if you're not a fan of Ricky). The front row is like the micro-audience, and the back row, the macro audience. Ricky can get up close and personal, look right into the eyes of the front row, give them a high five, even sweat on them a little. As the rows go back, and the crowd gets bigger (or the followers) that personal connection, authentic engagement, and overall relationship dilutes. See what we did there.
3. BRAND AWARENESS AND EXPOSURE
As we mentioned before, about hitting the 20 birds with one stone thing. Well, it's not only cheaper to use multiple micro-influencers, but, it also gives you the ability to reach lots of strong niches through different avenues. This will ensure your target audience is regularly exposed to your brand or product. And therefore, allow you to strategically reach your target market, and increase brand awareness and exposure. Boom!
4. AUTHENTICITY OF THE MICRO-INFLUENCER
You'll believe your friend's recommendation over a celebrity's, right? Well, we hope so. It's the same case with macro vs micro audiences. That's because a micro-influencer isn't a celebrity living their life in the spotlight, constantly being paid to promote every brand under the sun. In fact, most people wouldn't recognise them if they were walking down the street. Which makes them much more relatable. Maybe they're a friend of a friend, live in the same area, go to the same local coffee spot, maybe they're a dog lover too.
Whatever it is, their following encompasses a much tighter, engaged circle. And with that comes trust and believability. So when a micro-influencer promotes a product they truly love, it comes off as much more authentic to the viewer. Which is key, because people are becoming excellent online BS detectors.
5. BULLSEYE TARGET AUDIENCE
Since micro-influencers have a niche audience that's far more refined and specific, it's now a piece of cake for brands to cut through the millions of Instagram users and communicate to their exact target audience. However, in order to effectively connect with the influencer's audience, it's important to make sure your brand or product is authentic to the influencer's messaging, morals, and overall Instagram feed.
All in all, micro-influencers are beginning to change the game of social marketing into something, well, macro. From having authentic, believable content, higher engagement with your ideal audience, while also being a cost-effective option. It's only logical why more and more brands, with both small and large marketing budgets, are getting on the micro bandwagon.
If you're considering working with a micro-influencer, or any social media star – you can get set up on our platform, or talk to one of our campaign experts.